A modern European luxury house of Cracovian heritage founded in 2006. Supplying rare objects for a moment of resort.
CARRY-ON CARTER

€

3.000,00

WAITING LIST OBJECT | yes it is true—this bag is big. it is crafted for a slender man who lifts weight. just make sure the plane you're on is bigger then your carry-on. modern aesthetics and new techniques, but the values upon which our craftsmanship depends: discipline, passion and perfection, are timeless.

€

3.000,00
For private clients we do create custom made projects, in a small way. Prices start at € 3.000,00
My name is Szymon and I was born to a photographer father and a florist mother with an entrepreneurial spirit. The families humble beginning took place in the Family House outside of Cracov, developed by my grandfather (ph above: to the left in white suit). Suddenly wooden trunks were packed and my brother, parents and I left Poland behind. The family was uprooted to Stockholm in 1986, but our heritage would later be inscribed in the company dna.
Occupied, out of trouble and stitch by stitch I started out at Tillskärarakademin, an old fashion textile school. After graduation I was appointed head of design at a ­recognized house, but orders for family made luxury goods were pouring in on the side. In 2006 we made the decision to register the company 'SZYMON ZÜRN'.
Our most popular, but also most exclusive object is the big CARRY-ON CARTER. Which was created in 2014 to help the company establish global recognition and was successfully adopted by the young & global.
Objects remain rare thanks to our waiting list- constructed to secure artificial scarcity for our most popular objects. These are exclusive objects handmade by our expert artisans and sent on unpredictable schedules to our private clients around the globe. But most important, our business is a family business. Which means it is a business based on personal relationships.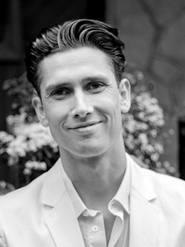 Yours sincerely
– Szymon Zürn, CEO